National Unemployment Rate
---
All monthly Federal Unemployment Figures are released by 7:00 PM on the 9th of every following month on Unemployment-Extension.Org, courtesy of the USA Bureau of Labor Statistics.
Current National Unemployment Rate:
3.6% (flat)
(June, 2022)
Today's Unemployment Rate
The United States figures chart refer to individuals who have applied to unemployed individuals who meet
eligibility requirements
. The United States Labor Board reports today's figures by city and by state. Unfortunately, they do not include or count each individual who is unemployed. The US Government does however publish a Current Population Survey to gather statistics for the rate formula in the USA. This survey is released on a monthly basis.
June 2022 Real National Unemployment Rate
The real national unemployment rate decreased by -0.1% to 7.1%. There are currently 5.7 million individuals (-0.2 million decrease since Apr 2022, when it was 5.9 million) who want a job but are not considered unemployed and thus not part of the official unemployment figures.
The US Unemployment Rate in the past 25 Months
The US Unemployment Rate decreased by -0.2% in 2018, by -0.4% in 2019, increased by +2.7% in 2020, decreased by -2.4% in 2021, and decreased 0.3% in 2022.
Unemployment Rate Definition
The current national rate (by definition) in the United States begins with a simple formula, which labels the unemployed:
Those who currently have jobs are considered employed.
Those who are able AND actively looking for work for 4 weeks or less are considered unemployed.
US Citizens that aren't "employed" but also are not "unemployed" are not included in the labor force (figures by year).
Unemployment Rate Chart
Unemployment Rate Formula
Anyone who works for payment when the Labor Board conducts weekly surveys.
Anyone who has worked for no pay at a minimum of 15 hours (must be a company that is family owned, and the owner must live with the individual).
Anyone who is considered only "temporarily" absent from a job that they have held (receiving pay during this off-time does not matter).
Part-time positions and temporary positions both count the individual as employed.

National Unemployment Rate will NOT include you if:


You are on vacation
You are ill
You are on paternity / maternity leave
You can't work due to weather conditions
You can't work due to industrial issues / strikes
Federal Unemployment Rate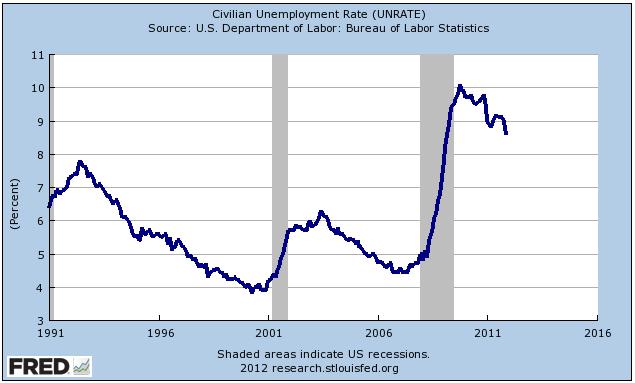 United States Unemployment Rate
(Who Counts as "Unemployed" in the Nation's Rate of Unemployment)
Anyone who CAN and IS actively looking for a job for 4 weeks or less, while NOT having a job currently.
Anyone who is eligible for a recall after a recent layoff, (these individuals are not required to look for a new job to be considered "unemployed" & part of the monthly rate in addition to the figures by state) and must be able to work to receive an extension of unemployment compensation.
Unemployment Rate by City
(Who IS NOT Counted in the National Labor Force)
Put simply, anyone who is not considered employed, and anyone that is not considered employed is not part of the labor force.
State Benefits Facts: The labor force does not include anyone younger than 16 years of age, anyone in institutions such as nursing homes, prisons, or are active duty in the Armed Forces.
Current National Unemployment Rate Issues of Today Discussed:
*Every individual who does not currently hold a job and is not actively seeking a job are not included in today's statistics for unemployment. Those who attend college or concentrate on family responsibilities are also not included in today's figures.
Unemployment Rate History
USA Employment Rate History Data Measurement
: Anyone who is currently collecting compensation from a state or
private unemployment insurance programs
(due to loss of a job) are part of these numbers. Once an individual is eligible for these benefits and has filed a claim, they are counted in the National statistics as "claimants". The same applies for all who file for new
unemployment extensions
. Unemployment Insurance figures however, are not what is used to count the total amount of individuals that are out of work in the USA. This is because not all individuals who are unemployed are not collecting benefits (can be due to simply not
filing
, or requirements).
How to Calculate Unemployment Rate
Unemployment Rate by City
:The same policies used in the US are also used in Australia, Japan, all of Europe, Mexico, and Canada. Some countries only count the number of unemployed individuals as "unemployed" if they have registered at their local employment office. Nearly all countries use the same method as the United States to determine today's figures by city.
Check Rates by State or Region: